Seair, Inc. was first formed in Orlando, Florida
in 1997. The original company designed and produced the first Seair Flying Boat. Our current owner Ed purchased one of the very first Seair Flying Boats in February of 2000.

After purchasing his flying boat, and flying for a few months (that's him on one of his first flights in the picture!), Ed got a call from the Seair owners when their trainer/pilot quit. Seair needed a new pilot to fly the Seair in a children's video ("The
Critter Gitters' Manatee Mission"). Ed left two days later for Florida, and performed as stunt pilot in this video. He's even in the credits! Although it features the old Seair Flying Boat, it's a very cute video for kids, and has some awesome flying shots! We highly recommend it.
While he was in Florida, Ed started working with Seair to make some improvements to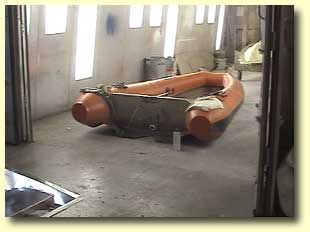 the Flying Boat. The owners of the company were not pilots, and eventually started to lose interest in improving the Flying Boat, so Ed bought the company, and formed Seair, LLC.
Ed immediately stopped all sales of the Flying Boat so that he could redesign it to be safer and sturdier. This lead to the aluminum hull that you find on the Seair Flying Boat today, as well as several other major changes. The picture on the left is the actual prototype boat. The current design was in development for the majority of a year, and initial production began in late 2001, with the first sales in early 2002. Since that first production, the Seair Flying Boat has been featured in 'Hammacher Schlemmer Gift Catalog' (as the Aeroboat), and on 'The Today Show', and is also featured in an informercial for the 'Roto Zip Sprial Saw®' tool, as well as in television, newspapers and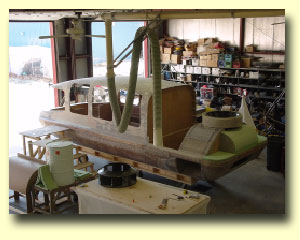 magazines.
Seair moved to Illinois in late 2001 when Ed met Seair's other principal owner (Kurt), and started expanding to build hovercraft and other sport vehicles. In February of 2002, they formed Seair Technologies, Inc. Ed and Kurt (along with Kathy, Mike, Mark, and Robert) have been working in 2002 and 2003 to design and build the smaller prototype hovercraft (see picture on right), as well as design our entire line of hovercraft, along with the production of the Seair Flying Boats.
In October, 2002, Kurt Peterson resigned from Seair for personal reasons. Although Kurt will be missed, Seair continues to work on the hovercraft designs and prototype craft. We hope to begin production on some smaller personal hovercraft in 2004, and complete designs for larger commercial craft as soon as possible.
A new chapter of Seair history is about to begin! With the departure of Kurt Peterson, Seair is able to move back to Seattle to our hometown. We know it's inconvenient for us to move right during flying season, but it's best for everyone. So we've temporarily shut down and are relocating to a new home in the Seattle, WA area. Until we are finished moving, we have a temporary phone number, and you can always contact us via email.
For more information, or if you have questions feel free to contact us.